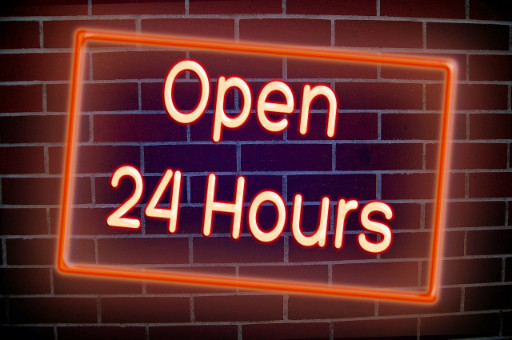 You have probably seen those advertisements or signs of bail bond offices promoting the fact that they are open 24 hours a day, and you wonder at their significance. Why would a bail bond company promote the fact that they are open 24 hours a day in their efforts to promote their business?
The simple answer is that jails do not operate within business hours, and you will be stuck in jail night and day until you can be released from jail. Once the amount of your bail is set, you would be interested in securing your release on bail as soon as possible, but this process could take time. The benefit of finding a 24-hour bail bond agency is that you can apply for their services as soon as possible, even if it is after business hours, or during a weekend when most offices are closed. You shorten the processing time of your release on bail significantly if you can begin to process long before the time when offices are closed. Finding a bail bondsman to act as your surety, and taking care of all the necessary paperwork the night before, for instance, means an earlier release for you the next day, after the bail bondsman has done their part, filed your bond, and helped to secure your release from jail.
Being in jail can be a traumatic experience, and anybody would be interested in securing their release as soon as possible. This is particularly true if you have been arrested in the middle of the night, for instance, or during a weekend. Instead of sitting in jail waiting for offices to open so that you can move forward with your bail, you can find a bail bondsman whose offices are open 24 hours and begin the process necessary for your release.
By making themselves as accessible as possible to potential clients, bail bond companies make their services reachable and available to those who need some form of assurance that help will be given to them. This in itself can be a great draw for potential clients who will certainly appreciate being able to reach their bail bondsman at any time, even if it is only to ask about the progress of the processing of their bail. For many suspects and criminal defendants finding themselves in jail for the first time, the psychological support this provides them can be an enormous help, knowing that there are professionals out there working on his behalf while he remains detained.
You or your loved one needs a bail ? Find out how we can help you today.